The French tax regime summarized for US companies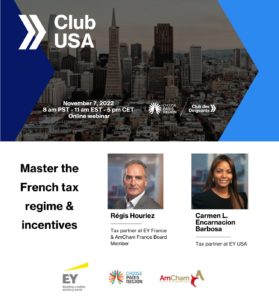 Choose Paris Region, AmCham France & EY specifically designed this webinar for you!
Join us, on November 7th, if you:
recently opened a subsidiary in France,
are a US company interested in doing business in France,
or are already doing business in France and want to get deeper into the French tax system.
Our panel of expert Régis Houriez, Tax Partner at EY & AmCham France Board Member and Carmen L. Encarnacion Barbosa, Tax Partner at EY USA, will tackle questions like:
How's France within the EU landscape?
What are the differences between the US and French tax systems?
Which incentives you can claim as a US firm in France?
 📆 Monday November 7th, 8 am PST – 11 am EST – 5PM CET