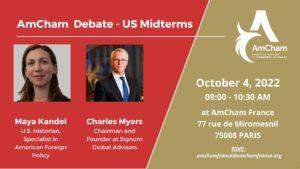 The US Midterm Elections – Can the Democrats hold on to the House ?
On Tuesday, November 8, Americans will once again head to the polls to vote for the Midterm elections. The stakes for businesses in the United States and abroad are high : from fighting inflation to the war in Ukraine and investments in the Green transition, much of the United States' economic trajectory will be decided by the results of these elections.  
To discuss the stakes of these elections for business in the US and abroad, AmCham France is pleased to invite you to an exclusive exchange with Maya Kandel, Historian, Specialist in American Foreign Policy, Associate researcher at the Sorbonne Nouvelle University and Charles Myers, President and Founder of Signum Global Advisors.
This meeting will be held in our offices (77, rue de Miromesnil – 75008 Paris) on October 4 from 9 to 10:30 AM (limited seats). Please confirm your attendance as soon as possible in order to guarantee a seat to this event. 
RSVP : amchamfrance@amchamfrance.org
We look forward to seeing you for this event.
Best regards,
The AmCham France Team
BIOS
Maya Kandel, historian specialized in American foreign policy and research associate at the Université Sorbonne Nouvelle Paris 3 (CREW). In 2021 and 2022, she was senior fellow and director of the United States program at the Institut Montaigne. Previously, she was head of the United States and transatlantic relations at CAPS (Center for Analysis, Forecasting, and Strategy) at the Ministry of Europe and Foreign Affairs (2017-2021); she was also editor-in-chief of the CAPS Notebooks. From 2011 to 2016, she directed the United States program at IRSEM (Institut de Recherche Stratégique de l'École Militaire).
Charles Myers, Chairman of Signum Global Advisors, has over 20 years of US political and electoral experience advising candidates in Presidential, Senate, House of Representatives and Gubernatorial and Mayoral races, including Hillary Clinton for President 2016. He also has 25 years of experience in global financial markets. As Chairman, Charles works with financial institutions and multi-national businesses to anticipate and assess policy agendas and announcements. Areas of expertise include US foreign policy and the implications of the Trump presidency in the US, Europe and Asia.