Details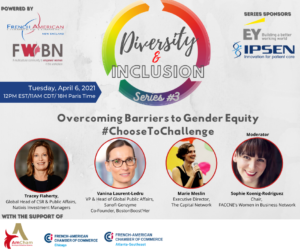 Join us on April 6th at 12pm EST (6PM Paris Time) for the third event of FACCNE's Diversity, Equity & Inclusion Series. For this event, we will be celebrating the end of Women's History Month with speakers Tracey Flaherty (Natixis Investment Managers) and Vanina Laurent-Ledru (Sanofi Genzyme), , Marie Meslin (The Capital Network). This event will be moderated by Sophie Koenig-Rodriguez, Chair of FACCNE's Women in Business Network. Our speakers will discuss "Overcoming Barriers to Gender Equity." 
Launched in 2014 for the advancement of women in the workplace, the French-American Chamber of Commerce of New England's Women in Business Network (FWBN) is committed to helping women succeed. As #womenshistorymonth is coming to a close, FACCNE's DE&I Series brings 4 fabulous Boston-based women together for inspiration, motivation, professional development, business resources and education. Our bi-national panel will share their respective experiences and advice from the corporate, non-profit sector and entrepreneurship perspectives.
We encourage our network to use #ChooseToChallenge on social media in reference to this event.
Thank you to our Platinum Sponsors IPSEN and EY for supporting FACCNE's newest event series. We know that diversity and inclusion are key priorities for Ipsen & EY. It is core to who they are and how they work.
We are also pleased to partner for this event with the American Chamber of Commerce in France, as well as the French-American Chambers of Commerce Atlanta and  Chicago.