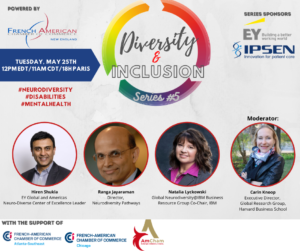 The FACC New England is very excited to continue with their newest series of virtual events dedicated to Diversity & Inclusion. 
The American Chamber of Commerce in France is very pleased to partner with the FACC New England for this event as well as the French-American Chambers of Commerce Atlanta and Chicago.
Join us on May 25th at 12pm EST (6pm Paris Time) for the fifth event of FACCNE's Diversity, Equity, & Inclusion series. This event will be focused on #NeuroDiversity. We'll be joined by speakers  Hiren Shukla, Global Neuro-Diverse Center of Excellence (CoE) Leader at EY, Ranga Jayaraman, Director, Neurodiversity Pathways and Natalia Lyckowski, Global Neurodiversity at IBM Business Resource Group Co-Chair for a conversation moderated by Carin Knoop, Executive Director at Harvard Business School  and expert in mental health.